Hammock Floor
The new chill area in your house
The Hammock Floor is a net installed in a house in order to creat an original, cosy and relaxing area. The made-to-mesure nets can be set-upas an extension for mezzanine, an old stairway and other holes in your house.
Our nets are made-to -meseasure in order to fit perfectly in the space available.
Limber, strong and economic, the hammock floor will turn any space of your house in a fun and relaxing area.
Nets&Co can make polyester nets with 13 mm meshes oh 30 mm mesh. Those two sizes of meshes are available in black or white colour. Our polyester nets can resists to 175 kg/m².
Condition to have an hammock floor :
There is only condition to have a net in your house is to have a strong structure all around your space. This structure can be made of wood, metal or concrete. Eye screw will have to be set every 15 all around the structure.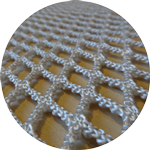 Polyester

13×13 mm

White

anti-UV treated

700 gr/m²

175 kg/m²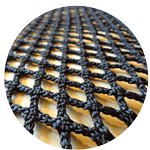 Polyester

13×13 mm

Black

anti-UV treated

700 gr/m²

175 kg/m²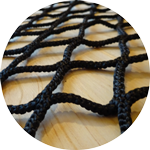 Polyester

30 x 30 mm

Black

anti-UV treated

450 gr/m²

175 kg/m²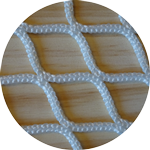 Polyester

30 x 30 mm

White

anti-UV treated

450 gr/m²

175 kg/m²

Nets&Co  propose galvanized 8x80 mm eye screw  or eyeplate screws
These fixations can resist to more than 60 kg/m²

We propose 8mm diameter rope, in different colour (blanc, noir, gris, rouge etc.)
The rope will be laced between the fixations along the structure and the border of the net